Listing #1846590
Sales Price: $22,000

Contact Information:
Roland O'Brien
Pre-Owned Homes, LLC
(772) 332-0570
Ask about home #14VV
https://www.mhvillage.com/1846590
Home Information:
1982 Homes of Merit Mobile Home
24 x 59 2 Beds 2 Baths
Seller's Home ID: 14VV
Home Location:
Home Address:
Spanish Lakes CC
14 Verde Vista
Fort Pierce, FL 34951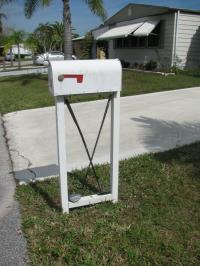 Home Features:
This home includes the following features: shingled roof, metal siding, hard panel ceilings, panel walls, electric heating, carport, storage shed, ceiling fan, central air, walk-in closet, laundry room, microwave, oven, refrigerator, dishwasher.
Disclaimer: Pre-Owned Homes, LLC, is in no way affiliated with The Spanish Lakes Communities.
Current market rent (Monthly lot rent) is $600.55, valid if purchased before 6/30/18.
Excellent, well-maintained home looking for someone who appreciates all the improvements! Offered unfurnished, there are 80 pictures of the upgrades: