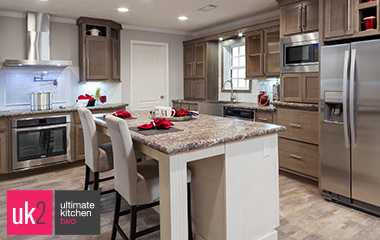 Champion Home Builders, Inc. is a leading manufactured home builder focused on building quality homes, packed full of value, and personalized for your needs. Over the past 60 years, Champion has grown into a nationwide collection of well-known manufactured housing brands including Atlantic, Dutch, Fortune, Highland Manufacturing, Homes of Merit, Redman, Silvercrest, and Titan. You'll find these Champion brands at retail sales centers and communities throughout the U.S.
Whether you're a first-time homebuyer, a growing family needing a larger home, or an empty-nester wanting to downsize, we have flexible designs to fit your lifestyle and budget. Your new home is a reflection of you and that's why Champion gives you a large selection of décors and professionally designed features to choose from. Our new ULTIMATE KITCHEN TWO with Whirlpool® appliances and modern touches is just one example of the beautifully designed options you'll have access to.
Start your home search here. We're sure you'll find that special new home you've been looking for.