Two-bedroom mobile homes are among the most versatile and cost-effective sizes of mobile homes. They're the "Goldilocks" size for many people because they're not too big and not too small—just right! A two-bedroom mobile home is perfect for small families, couples buying their first home, empty nesters downsizing, or single people looking for a little extra space. 
In this article, we'll look at five two-bedroom mobile home models that could be perfect for you. Each has a combination of appealing architecture, creative design, and must-have features that makes it a great choice for someone looking for a home that's just the right size. 
1. Champion Homes YS 1670A 
From the moment you approach the Champion Homes 1670A, you can tell it's a beautiful place to enjoy the comforts of family and home. A large covered front porch welcomes guests and residents alike.
Inside, the 1670A is the picture of homey charm, with a large, open-concept eat-in kitchen and living room. It's warm and inviting in earth tones, and its wood laminate flooring gives it a comfy and rustic flavor.
The master suite is equally delightful, with plenty of natural light. A dual-color wainscot wall design provides a pleasant color contrast and gives the room a lively but relaxing tone.
2. Redman Homes Advantage 1680 275
From the beginning, the Redman Homes Advantage 1680 275 stands out with its unusual architecture and sloped roof. With not one but two porches to enjoy, you'll find the exterior an inviting place to enjoy home and nature. 
Fans of built-in storage will love the 1680. It's loaded with numerous built-in Shaker cabinets that help keep the house as neat as it is elegant. A sleek and streamlined kitchen invites you to find your perfect culinary flow. 

The 1680's beautiful master suite is also perfect for anyone who loves cozy, compact luxury. It includes built-in cabinets throughout, and the bathroom features double sinks with lighted mirrors.
3. Champion Homes Palmetto PM2452
If you're pining for a home that's airy, spacious and beautiful in equal measure, the Champion Homes Palmetto PM2452 is calling to you. Built-in cabinets, an island counter and a tile backsplash combine for a modern and appealing kitchen, and the home is blessed with natural light throughout.
Beautiful country accents provide character throughout the house, like the set of double barn doors that leads from the living room onto the generously-sized den. A tray ceiling brings luxury and elegance into the room's already-high ceilings.
The Palmetto's bathrooms are an ideal complement to the rest of the home, with dual sinks and a double-length mirror. This home looks great in any decor style, but it especially pops when combined with a nautical theme and colors like seafoam green and deep blues.
4. Redman Homes Creekside Manor 3522D
The Redman Homes Creekside Manor 3522D is what you get when rustic, cozy, and contemporary meet in a single two-bedroom mobile home. This 1,213 square foot home has a cabin-style exterior that's ideal for those who desire country living, and its numerous windows make it a natural light lover's dream come true.
Thanks to those windows, the 3522D is bright and vivacious inside. A large island countertop forms the centerpiece of the kitchen, with a dining room and living area to either side. Recessed lighting and tray ceilings work together to create a dignified ambiance.
In the living room, you'll find more pleasant country touches like sliding barn doors. This home also includes a den area that's ideal for family time or media viewing.
5. Skyline Homes Silver Springs 5354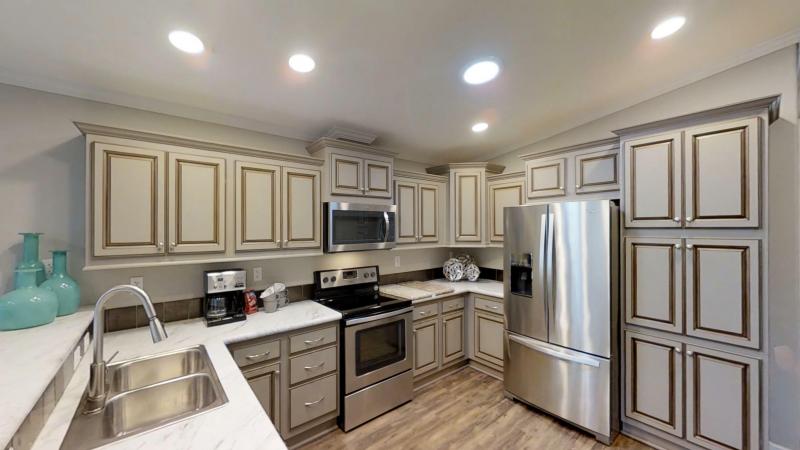 Here's another two-bedroom with a fully-loaded approach in its 1,623 square feet. From beautiful stainless appliances to Shaker cabinets, the kitchen of the Skyline Homes Silver Springs 5354 lets you know what's in store—and it only gets better from there.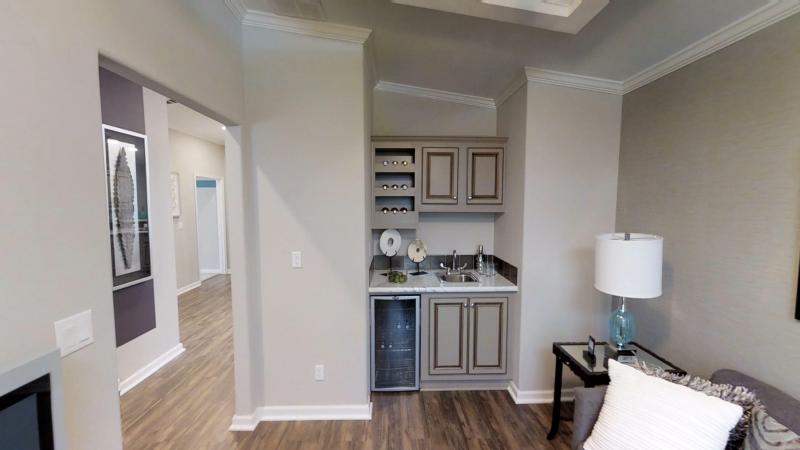 The 5354 has an abundance of the little touches that make life good, like this optional built-in wet bar and wine refrigerator. This home also features a den extension that offers more space than the standard double wide manufactured home.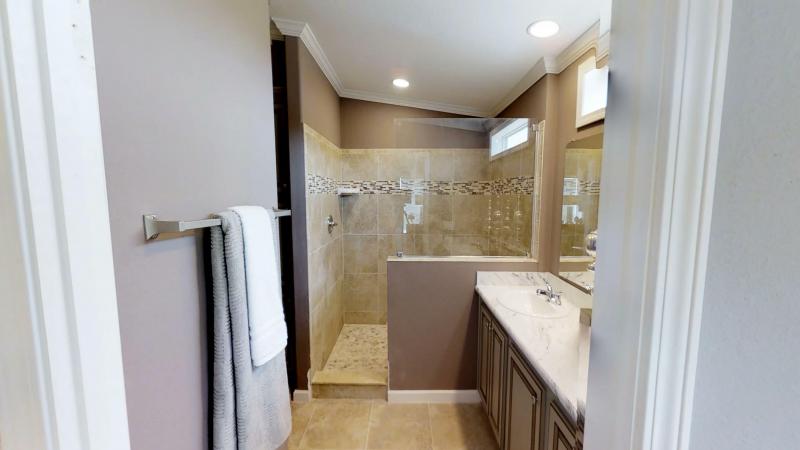 In the master bathroom, you'll find a walk-in shower with beautiful tile that invites you to relax in comfort (plus an optional dual sink upgrade). Once you've experienced the 5354's array of contemporary conveniences, you'll wonder how you ever lived without them.
Looking for something a little bigger?
Looking for something a little bigger? See our article on 3 bedroom mobile homes that your family will love. Want to go small, instead? Check out our selection of one bedroom mobile homes for maximum efficiency and cozy comfort.