Listing #2144822
Seller ID #Bliss07262019DA

$59,500
Lot rent $538.00 / month

1972 Z Camer
24 X 52
2 bedroom, 2 bath

3411 S. Camino Seco
Tucson, AZ 85730
Rincon Country Mobile Home Park

View photos at www.mhvillage.com/2144822
MANAGER'S SPECIAL - PRICE REDUCED to $59,900! Beautifully Remodeled 1972 Z Camer 24x52, 2 bed/2 bath. New Kitchen Cabinets and Countertop; Upgraded Appliances. New Sono Flooring & New Carpet. New A/C....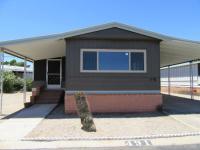 Listing #2146562
Seller ID #Bliss072019DA

$35,000
Lot rent $538.00 / month

1979 Marlette Homes
14 X 70
2 bedroom, 1.5 bath

3411 S. Camino Seco
Tucson, AZ 85730
Rincon Country Mobile Home Park

View photos at www.mhvillage.com/2146562
Nicely Remodeled 1979 Marlette Homes, Inc., 14x70, 2 bed/1 1/2 bath. This home has new windows and new vinyl plank flooring & carpet. The kitchen is open to the living room, creating the much sought a...