Listing #2228018
Seller ID #Encore Home 29421 Sandburg

$329,000
Lot rent $848.63 / month
Recently Listed

1978 Encore Home Double-wide
1440 Sq.Ft.
2 bedroom, 2 bath

29421 Sandburg Way
Hayward, CA 94544
New England Village

View photos at www.mhvillage.com/2228018
The latest Encore Home by ARM Homes is now available! This one-of-a-kind home features an open floor plan, Craftsman details and quality features inside and out. From the island kitchen to the spaciou...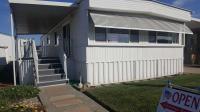 Listing #2134902
Seller ID #413 Santa Monica

$124,950
MH/LX

1971 Gulfstream Double-wide
1080 Sq.Ft.
2 bedroom, 2 bath

413 Santa Monica
San Leandro, CA 94579
Mission Bay

View photos at www.mhvillage.com/2134902
Home Features... This 1971 double-wide Gulfstream mobile home offers 1,080 Square feet of living area. Two bedrooms, master features an adjoining dressing area and bathroom, Two baths-Master fea...